Hand-Painted Replica | The Masterpieces

Premium Artworks | for Art Lovers

Feel | The Awe from Genuine Touch
Hand-Painted Replica | The Masterpieces
Premium Artworks | for Art Lovers
Feel | The Awe from Genuine Touch
Hand -Painted on Canvas | Reproduction of World's Masterpiece Art
All drawings drawn from the original painting are hand-drawn by the reproduction artist on canvas. Therefore, it cannot be 100% equivalent to the original artworks. If you want a 100% identical picture, it is correct to look for the one printed by the printer, not the one drawn.
Please be mindful of this and make sure there are no mistakes in your order.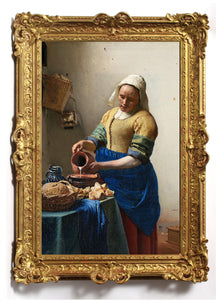 Canvas to Frame Decoration Art
Once you get the canvas art works purchased from Walldecoarts.com, visit the nearest frame shop and order the flame considering the color of the space you want to hang the picture or other furniture arrangement. You can enjoy the atmosphere of the masterpiece in a beautiful frame like the image of the sample.
* Image shown here may different and frame is for sample not provided by walldecoarts.com
3 in 1 | Large Print On Canvas
-This beautiful artwork is done by Giclée printing which is the best known methods.
-Ideally it can be stay as long as hundred years same as printing comes out if you avoid it from sun ray and excessive heat.
-3 same-sized units complete whole images and the size might differ upon customers' choices from Small, Medium or Large.
-This mage is well known as a Symbol of America, the center of America politics
-One unit has the size of Small(28" X 20"), Medium(36" X 24"), Large(48" X 32")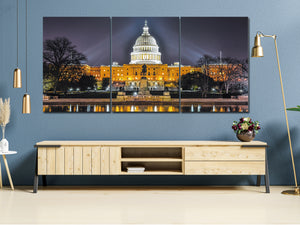 Giclee Printing
Use this text to share information about your brand with your customers. Describe a product, share announcements, or welcome customers to your store.